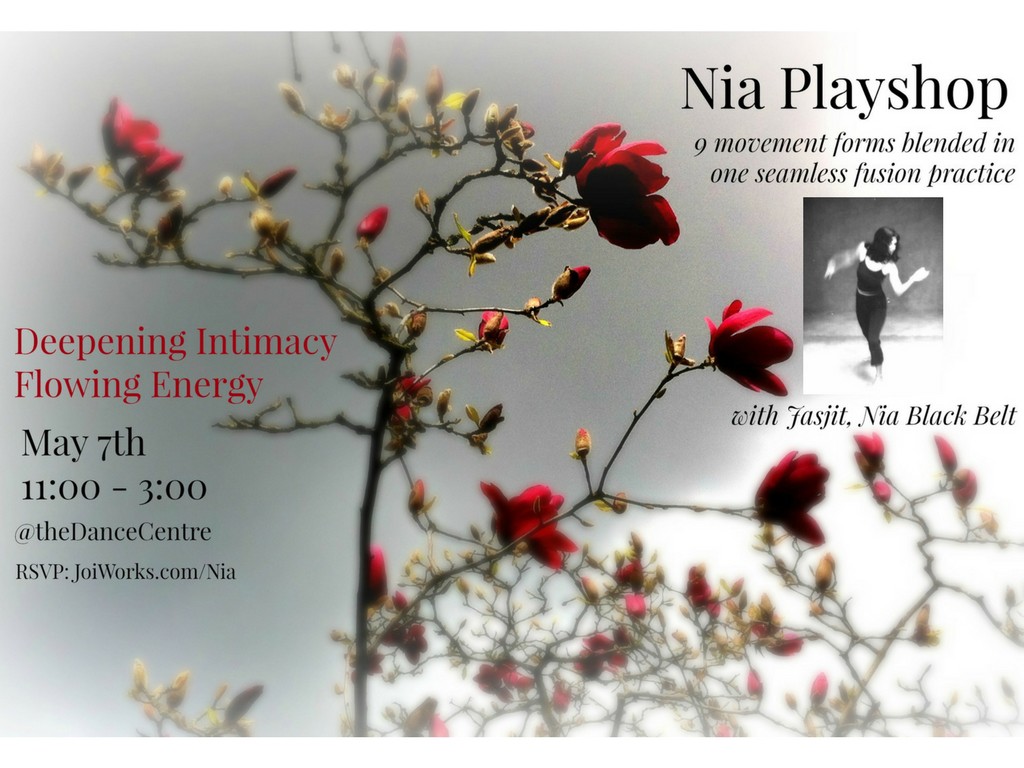 Enjoy deepening your intimacy with your body, spirit, and heart. Learn to listen to the voice and language of your natural self, with its wisdom and miraculous ability optimize your well-being and health. As you do, energy is able to flow with greater ease creating more joy, vibrancy, and expression.
We'll play with exercises to heighten your awareness and have fun, loosening the ties that bind. You'll experience and participate in a full Nia routine, blending movements from the dance, martial and healing arts to dynamic music. There will be space for stillness and integration. 
If you're at a place in life where you need some "juice" or to reconnect with yourself more deeply, this is the place to be on May 7th. Previous participants have spoken of heightened creativity, greater sensory awareness, release of long-held emotions, and accessing an empowered self.
Please register for the event by clicking here. Space is limited.
The Nia Playshop will be led by Nia Black Belt, Jasjit Rai, who has been teaching Nia for over 16 years. She's been interviewed on tv many times, discussing the impact, benefits, and joy of the Nia practice. She was 1 of 50 international teachers invited to help create the training course for Nia teachers and 1 of 50 invited to become a Nia Trainer. One student recently commented, "You have a unique ability to transmit energy by the way you teach, something not all teachers have."
A Nia Playshop :: May 7th