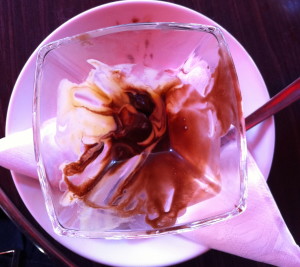 It's important to me see where my clients are after they have worked with me for a few months or over years. Their progress delights and informs me. It's a check on the quality with which I aim to work.
I'm proud to say that any client who has worked at least 3 months with me has seen significant shifts in their life and work. They are no longer stuck, or wondering 'what if' about that important dream they had for years, or still in the same space. Their dreams are in full swing. Here are 3 client updates I've received in the last few weeks:
Krisztina, Vancouver, BC
Before: at a government job that had been feeling stale for a long time, although it was secure; unhappy in the home she and her boyfriend lived in which was too small and noisy at night; having a long-held desire to work internationally and wondering how to make that happen
After: landed interviews in New York City where organizations were interested in hiring her; quit the secure yet limited government job (yep, she did it!) and now on contract in a more exciting and challenging arena; planning to live overseas short-term for potential career advancement; finally moved into a more spacious home in a beautiful neighbourhood where it's quieter, and they get to have a cat! 
Norma, Saltspring Island
Before: working 2 p/t jobs plus one casual, feeling a lack of joy in life for years after going through personally challenging experiences, wondering how to create space for artistic desires.
After: quit jobs and now running a successful business with opportunities to work from home and fly to work on occasion (contract in a nearby cosmopolitan city), holding her own solo art exhibit this year, on a tropical holiday right now with her husband, and living a newfound joie de vivre and excitement that had been absent for years. 
Vanessa, Nova Scotia
Before: coming out of maternity leave and not finding work, feeling stuck, having an inner vision that was bigger and wanting to come out, living in a city that felt limiting due to language barriers.
After: got a new contract quickly followed by a new job and moved to a new city with family; now doing a PhD on the impact between art/nature and well-being for children – a project dear to her heart/vision; continuing to work on what was uncovered and explored through the coaching (had another baby in the meantime which was deeply important to them)
Where each of these clients were and where they wanted to be did not seem easy at all when we began! The path was neither direct nor clear. It looked and felt complicated, creating feelings of stuckness and fear that the real dreams were not near.
With a clear guided coaching process, designed to lift them to the playing field they wanted to be at, each step got taken to unfold into the bigger picture of the transformation they were seeking.
They each had multiple desires – their bigger vision, business/career, personal life, and of course the desire for more joy and self-expression. This is where there often was confusion about where to begin and what was  most important. Working holistically was the key to move forward gracefully and with results – a holistic path resolves so much! We started with what is most important within their hearts. That naturally led to the practical shifts and achievements.
When you discover and follow what is of deep importance, the rest tends to begin working out, because life now knows what to shape itself around.
They're all capable individuals, but hidden resistance/fear can cause procrastination, stuckness, and overwhelm when we want to achieve a lot. Then we can get caught in our minds about how to make it happen –  a sure recipe for delay!
The changes didn't just happen while they're being coached. They continue afterwards since we've dug deep enough to discover the bigger dreams and get the momentum flowing. From there, clients consistently still have results showing up 2-3 years later and feel more on track. That is the power of getting clear and saying 'yes' to your dreams with commitment! 
Jasjit Rai is a Certified Coach, Nia Black Belt teacher, and Wardrobe Stylist. Her work transforms people from the inside out so they're living from their true essence, where their power lives. If you're looking for a significant shift in your business, life, or career, you can request a free consultation, info@joiworks.com